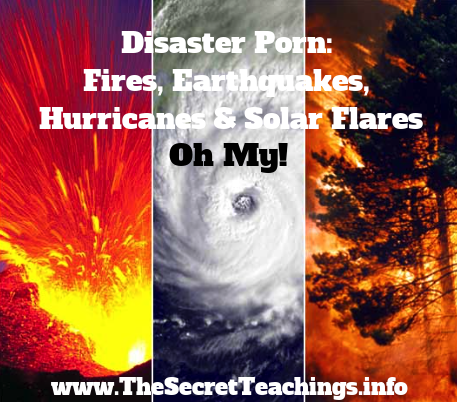 Fires, Earthquakes, Hurricanes and Solar Flares, Oh My!
If we focus on maps or graphs of increasing temperature, zoomed in to rising measures, it can be stated that "temperatures are increasing" or that there is "global warming." Contrarily we find the same if we focus on the line of temperatures decreases, i.e. "global cooling." Having a look at the entire graph provides much needed perspective.
As wild fires [see Map] raged across the pacific Northwest, leaving thick clouds of smoke to drift to several states, the Sun released two of its most powerful flares (x–class) on September 6th that have interfered with radio communications amongst other electronic and health disruptions. The two flares registered between X9-10. Although these flares can alter human behavior, scientist always seem reluctant to suggest they could influence climate. These two flares, in particular, are the strongest ones recorded in a decade, but not the strongest on record.  Data from the USGS, NASA and NOAA, were used in a study published in Geophysical Research Letters that reported to find "no significant pattern between solar activity and more or larger earthquakes." But no significant pattern does not mean there is not a minor pattern and this also depends on how you define "significant" and whether that data is significant to those in the study. To not find a "significant pattern" between "solar activity and more or larger earthquakes" does not mean there is not an association or trigger, as opposed to placing every causation upon the sun and directly on CMES.
As for the fires, the National Interagency Fire Center (NIFC) has called the length of the fires "not normal." Space weather does effect Earth weather, as much as it does human behavior, and in the midst of some of the strongest CMEs smacking the planet, one of the largest swarms of earthquakes, 2300 tremors, has been recorded at Yellowstone. Over 3,000 were recorded in the largest swarm recorded in 1985, but the 2017 swarm is ongoing.
A magnitude 8.2 earthquake rocked Mexico Thursday night, within a day of the previous flares striking Earth. This quake is being called "one of the biggest" ever and "strongest in a century," was part of a double punch to the country that simultaneously had to deal with Hurricane Kaitia in the Gulf.
Meanwhile, just days after Hurricane Harvey devastated parts of Texas with high winds and massive flooding, acting more "intelligently" controlled than natural as it "parked" over Houston, more Hurricanes lined up with a path to the Southeast United States.
Hurricane Irma also seemed to have an "intelligent" factor to it, traveling the northern tip of Cuba and then the western tip of Florida, just enough off the coast to maintain most of its devastating strength while causing damage to everything in its path. Florida was in the direct line of Irma, one of the strongest storms ever recorded with 185 mph winds, the strongest ever outside the gulf-caribbean. Hurricane Irma is so intense that it even sucked water from coastlines, to reshape the ocean line. One article said: "Basically, Hurricane Irma is so strong and its pressure is so low, it's sucking water from its surroundings into the core of the storm." In terms of wind speed though, Irma is not the strongest recorded, as Hurricane Allen reached wind speeds of 190 in the 1980s. Scientists are also saying the image of the three storms in the Atlantic is unlike anything they've seen before [see below image] and further bears a striking resemblance to the super-storms depicted in the film "The Day After Tomorrow." Behind Irma is Hurricane Jose, a storm upgraded to a category 4. Likely having little to do with the formation of the storm, in eery fashion, the sun unleashed two solar flares in the final week of August 2005 before Hurricane Katrina made landfall as one of the most devastating storms in US history. These dual solar flares are similar to the ones released just days before Hurricane Irma made landfall in Cuba and the US.
Its no doubt arguments about "Climate Change" immediately come to our minds, agree, disagree, or agree and disagree as we do at The Secret Teachings radio show. Flooding on the coast, and in low lying areas, is as natural as our inclination to build in these areas though, no different than building a home at the base of an active volcano. If you live somewhere not affected by any storm, earthquake, etc., and you walk outside as a hurricane destroys another state, you could have a clear sky and sunshine. Is the world coming to an end where you live? If you watch the news like a cult follower, hearing the same information repeated over and over again, as if you are need of evacuation orders safely a thousand miles away, the fear and panic spreads like an uncontrollable disease. Without perspective the disease becomes terminal and many eventually begin following doomsday pornography waiting for a planet to smash into Earth or a hole to open up and swallow them into the inner flat Earth!
There will inevitably be talk during natural disasters and catastrophes of who or what to blame. While some people blame political opposition, those with certain sexual preferences, or carbon dioxide, those in the opposite extreme will say these disasters are entirely created by some shadow elite to kill people.
Hurricanes, along with other weather like rain or lightning, may be created or modified. Although the truth rests at a position of equilibrium between two extremes, weather control/modification is as real as these storms occurring naturally. Their occurrence does not prove they were created by climatic manipulation anymore than their intensity proves that CO2 is responsible.
Documents from the U.S. Department of Commerce and Office of Oceanic and Atmospheric Administration (NOAA) dated July 29th, 2009, show how Hurricane modification is indeed a reality. The Hurricane Aerosol and Microphysics Program (HAMP) was funded to the tune of 64.1- million taxpayer dollars, at least officially. The document states:
"While OAR recognized that weather modification, in general, is occurring through the funding of private enterprises, NOAA does not support research that entails efforts to modify hurricanes. NOAA, and its predecessor agency, once supported and conducted research into hurricane modification through Project STORMFURY from 1962 to 1983. Project STORMFURY was discontinued as the result of 1) inconclusive scientific results, and 2) the inability to separate the difference between what happens when a hurricane is modified by human intervention versus a hurricane's natural behavior. Since Project STORMFURY'S end 26 years ago, NOAA scientists havgained substantial insight into the complicated and interconnected processes within the overall hurricane environment. Yet, it remains unclear if enough knowledge has been gained to make any new  modification attempts practicable."
The document also says, "Pollution aerosols reduced the cloud drop size and suppressed the warm rain forming processes in the external spiral cloud bands of the storms…During the past decade, it was found that aerosols substantially affect cloud microphysics."
So in acknowledging "weather modification… is occurring," it is only through what they call "private enterprises." Here is a fancy deflection to mean contracted third-parties or companies working with, yet entirely off-the-books separate from a government-agency. There is not a grand conspiracy at play, but extremely political compartmentalization with very few people in the actual know of what is the intention or purpose of a larger project. Even then, NOAA and their predecessor admit they had their own program aimed at hurricane modification. Although they specifically state that "it remains unclear if enough knowledge has been gains to make nay new modification attempts," they simultaneously admit "aerosols substantially affect cloud microphysics."
A Department of Defense News Transcript from the Office of the Assistant Secretary of Defense dated April 28th, 1997, read: "Others are engaging even in an eco-type of terrorism whereby they can alter the climate, set off earthquakes and volcanoes remotely through the use of electromagnetic waves. So there are plenty of ingenious minds out there that are at work finding ways in which they can wreak terror upon other nations. It's real, and that's the reason why we have to intensify our efforts, and that's why this is so important."
If technology developed on Earth has the ability to use "electromagnetic waves" to "set off earthquakes and volcanoes remotely" then why is the highly charged electromagnetic-plasma pulse from the sun not an affective trigger for earthquake and volcanoes? If the sun can alter human behavior, as can the moon, then why is the sun neglected in conversations about weather? Furthermore, why is every hurricane, tornado, tsunami, earthquake, and the like, called the "biggest," "largest," "strongest," or "worst," with neglect as to any perspective on what reference those terms are in relation too? What record did they break and how far does that record extend back? If the sun is responsible for altering human behavior, knocking out radio communications, the aurora borealis and providing life with nurturing warmth, why is it degraded as giving us cancer, and almost entirely ignored when the subject of its influence is addressed as per earthquakes or climatic shifts?
But while natural disasters are politicized to push agendas, millions evacuated and hundreds have been killed or injured, with many of them losing much of what they owned, Hollywood elite, and political drones, continue to use the disaster to push an agenda. As if President Trump would not have said he wanted to remove the US from the COP21 deal, or if we had a carbon tax and paid $4-trillion to the World Bank, these Hurricanes would not have happened!
News media are even using the storms to push an agenda of "fake news" to discredit any alternative competition. Some people have said due to the high wind speeds of Irma the storm could be listed as a cat-6 hurricane. But this was quickly dispelled as a "fake" internet "hoax" by official classifications using the Saffir-Simpson scale, which rates hurricanes based on sustained windspeed between 1-5. Since cat-5 storms have wind speeds of 155mph and up, this myth was torn apart based on official classifications; even though some scientists have also suggested it deserves a cat-6 classification.
Capitalizing on panic, concern and fear, actress Jennifer Lawrence placed blame on President Donald Trump, saying Harvey and Irma are nature's response to his view on Climate! She also said: "It's also scary to know, that climate change is due to human activity, and we continue to ignore it, and the only voice that we really have is through voting," Smug comedian Bill Maher also placed blame on climate "deniers." stating its " just an inconvenient truth" many will have their homes destroyed. These comments are tantamount to the ancient profane belief that the gods sent storms to punish mankind. Even sex-scandal televangelist Jim Bakker quickly tried to sell survival food in the wake of Harvey, claiming the storm was God's Judgment and that Christians alone should be prepared. Another Minister, Kevin Swanson, linked Harvey to the LGBT community, saying it was a message from God.
Governments have used the storm to confiscate firearms in the Virgin Islands and round up convicts in Polk County, Florida, by searching for arrest warrants at shelters.
Others are simply using the storms as a more direct way of making money. While people suffer, foundations and charities continue to reap the benefits of these disasters, with more to come. Airlines have raised prices by thousands of dollars for those trying to evacuate, claiming the prices were glitches in the system that were rectified upon contacting the airline directly.
Others like Joel Osteen who closed the doors to his megachurches during Hurricane Harvey, waited until the money dried off and then asked for donations. Once the storm passed, the church gladly used the devastation to ask for donations from the very people devestated by the storm! The Red Cross also has made tremendous profits campaigning for "donations," after stealing half a billion in Haiti, while admitting they don't even know where most of the money goes.
Amongst all the devastation, and more to come, we have seen groups like the "Women's March" and those working with Linda Sarour using donations for those effected by the Hurricane to fuel a political agenda aimed at "people of color" while stating the money will not be "spent on any other purpose." Her Women's March group even tweeted ways to donate directly to those organization that only help minorities. These groups are literally campaigning for money to help those in need, then saying the money will only help certain groups of people based on race, and those groups will only be politically accounted for and not actually helped with supplies or shelter!
While some use the devastation to promote political agendas that divide, all races and creeds banded together to help each other. President Donald Trump pledged $1-million of his own money and every opponent, including Linda Sarsour, act as if Houston is an entirely "white" city that deserves destruction while non-hispanic whites make up less than 40% – a minority!
On a more comical note, some athletes and fans are upset at the postponing of the Miami Dolphins, Tampa Bay Buccaneers football game over the September 10th weekend, citing concerns the teams will need to play an unsafe 16 straight weeks of football and that some players abuse painkillers. Well, first off, maybe we should tell Irma to postpone landfall so the NFL can steal some more pink-ribbon money. Second, would they rather play a game in catastrophic cat-5 winds and storm surges, the likes of which the country has never seen, or just wait a few days to play again? Third of all, if the sport is that dangerous, stop playing it!
Then to finalize the subject, David Meade, a Christian prophet, says Nibiru will be visible and destroy the Earth on September 23, 2017. Planet X, however, was supposed to have struck Earth in 2012 and 2003, and yet people continue to line up in support of these false prophets making false profits. One article explained that much of this fear has stemmed from the work of Zecharia Sitchin: "Sitchin's work remains in print and has a devoted following around the world." His "work" has become holy scripture and both aliens and planet x have become the second coming of Jesus. The entire field of ufology and those related, although this author is involved, has become a mockery and is insulting to honest research. Its a wasteland of con-artists and ego mixed with hypocrites and groupies. It has become a religion and cult, with fear and hope, as much as any coverage of these natural disasters, which have become a form of entertainment for those not affected: Disaster Porn.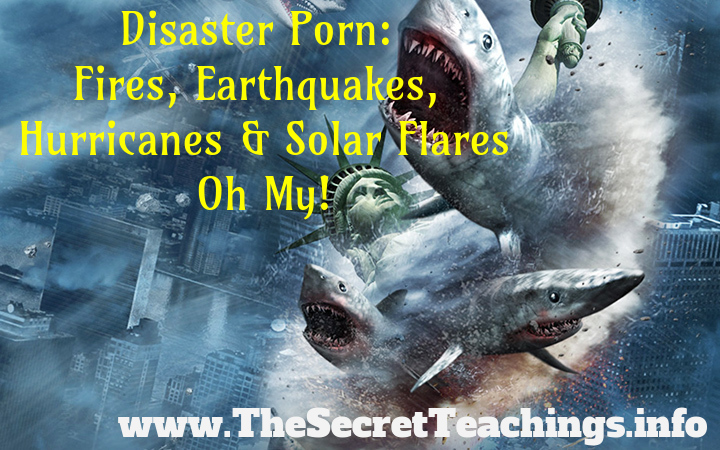 ---
4pm EST / 3pm CST / 2pm MST / 1pm PST
Call in # 1 208 650 4160
Listen & Chat – HERE
---
CHAT-Room                Listen on iTunes          Listen on TuneIn
Listen without data on your PHONE – Call 605-562-4203
---
---
We are entirely listener supported at The Secret Teachings
---
SUBSCRIBE & get full access to our entire show Archive with exclusive After Shows with our guests, only available to subscribers!