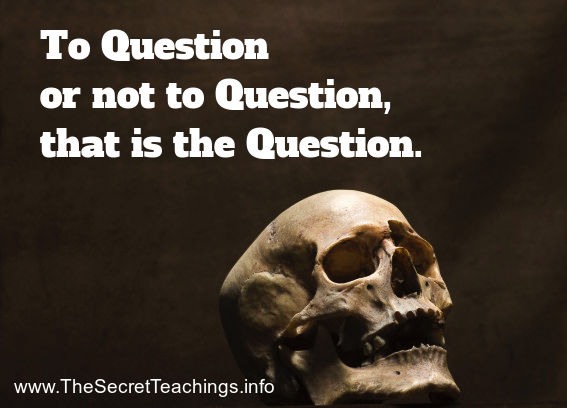 To Question or not to Question, that is the Question, and that is the theme of what we will be exploring throughout this powerfully honest broadcast.
Today people are more offended by the truth than a lie; honesty than deceit; and thus lying has become so normal it is accepted over honesty.
Opinions have become fact and facts becomes opinions, if they are not given by "authority." These "authorities" exist in every field of study from "mainstream" to "alternative." They each act as high presets of a religion with holy books, prayer-type gathers, demons and angels, raptures, resurrections and second coming, followings or discipleship,  collection plates and heaven and hell.
To Question these "authorities" is to threaten their vain image, ego, following and income. Those, no matter how well researched, who question them are black balled, discredited and defamed. When we question to authority or money, we become a threat to be dealt with, even if all we do is ask a question for proof of what someone says.
Should we question and be ousted or should we not question and sell ourselves out?
---
4pm EST / 3pm CST / 2pm MST / 1pm PST
Call in # 1 208 650 4160
Listen & Chat – HERE
---
CHAT-Room                Listen on iTunes          Listen on TuneIn
Listen without data on your PHONE – Call 605-562-4203
---
---
We are entirely listener supported at The Secret Teachings
---
SUBSCRIBE & get full access to our entire show Archive with exclusive After Shows with our guests, only available to subscribers!